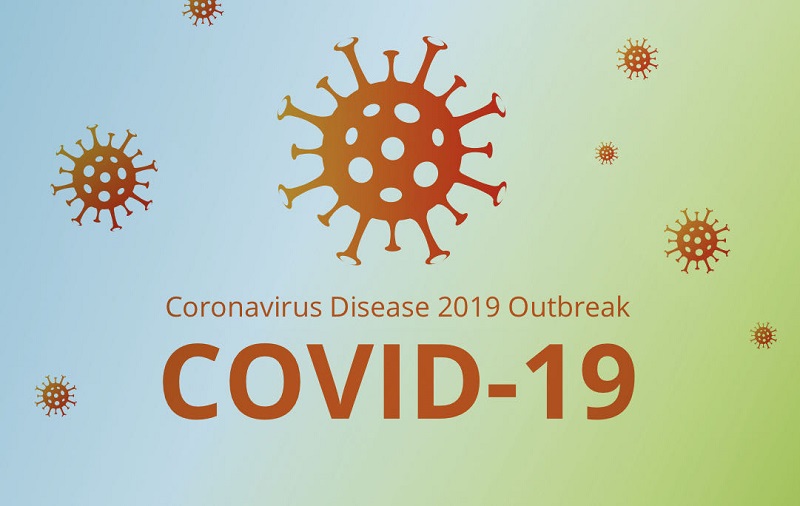 Country,
Other

Total
Cases

New
Cases

Total
Deaths

World

239,018,984

+317,392

4,872,524

45,313,353

+50,466

734,611

33,984,479

+13,186

450,991

21,582,738

+6,918

601,266

8,193,769

+40,224

137,763

7,804,774

+29,409

217,372

7,475,115

+30,563

66,368

7,057,631

+1,120

117,082

5,716,394

+13,504

122,868

5,266,275

+416

115,491

4,977,448

+1,277

86,827

4,973,325

+1,089

126,655

4,701,832

+1,516

131,335

4,334,254

+4,872

95,087

4,228,552

+620

142,716

3,723,235

+2,690

282,086

2,923,304

+903

75,869

2,912,346

+201

88,346

2,674,814

+8,292

39,660

2,550,089

+8,832

58,700

2,346,303

+6,709

27,422

2,184,676

+412

199,703

2,026,402

+2,711

18,209

2,024,705

+944

22,591

1,720,919

+10,035

17,751

1,710,973

+553

17,941

1,702,658

+336

30,509

1,663,383

+950

37,571

1,660,000

+1,011

28,213

1,562,958

+599

27,699

1,365,788

+9,148

39,629

1,307,281

+1,246

7,937

1,264,622

+1,594

25,688

1,258,959

+1,004

28,134

1,075,639

+327

18,048

1,010,868

+5,700

8,788

939,356

+169

14,474

921,328

+2,945

7,891

905,641

+1,717

11,559

843,281

+3,619

20,670

834,778

+1,307

10,818

829,456

+2,046

30,303

802,861

+663

11,243

762,538

+1,320

11,106

737,890

+124

2,114

709,866

+32

25,039

679,157

+2,358

15,177

635,583

+1,530

9,269

630,382

+202

8,389

579,774

+285

14,066

559,715

+1,943

4,304

547,649

+58

8,748

546,595

+565

6,698

527,064

+681

13,354

524,333

+3,471

21,813

503,922

+187

18,798

492,790

+611

6,677

479,848

+1,197

18,162

469,190

+108

7,271

460,218

+15

16,207

425,971

+402

12,735

418,028

+170

8,778

414,373

+963

4,253

412,121

+42

2,455

404,514

+1,357

5,280

390,115

+77

6,064

384,668

+1,292

4,634

369,746

+200

9,988

366,191

+633

4,067

364,464

+564

2,671

355,001

+525

6,026

353,289

+1,238

5,248

346,813

+637

4,792

332,816

+1,297

2,583

326,738

+1,348

1,450

313,259

+846

17,726

307,182

+535

7,048

303,978

+13

4,102

301,644

+186

4,617

275,734

+80

1,390

272,957

+601

5,575

251,248

+96

5,190

237,483

+59

607

209,353

+6

3,654

207,978

+284

2,756

204,695

+98

5,855

195,002

+111

6,849

194,040

+478

871

181,251

+813

2,381

179,338

+57

2,620

178,637

+378

1,271

175,163

+195

2,777

172,278

+1,002

2,806

165,345

+727

1,400

119,812

+170

560

44,306

+36

968

15,645

+19

170
Retrieved from: https://www.worldometers.info/coronavirus/
AstraZeneca antibody cocktail study shows success treating COVID-19
By Ludwig Burger and Yadarisa Shabong, Sachin Ravikumar
AstraZeneca's (AZN.L) antibody cocktail against COVID-19, which has proven to work as a preventative shot in the non-infected, was also shown to save lives and prevent severe disease when given as treatment within a week of first symptoms.
The drug, a combination of two antibodies called AZD7442, reduced the risk of severe COVID-19 or death by 50% in non-hospitalised patients who have had symptoms for seven days or less, the Anglo-Swedish drugmaker said on Monday.
The risk reduction was even better in patients who started therapy within just five days of initial symptoms, but AstraZeneca joins an already crowded field of medicines that were shown to prevent deterioration in patients with mild disease when given soon after diagnosis.
AstraZeneca executive Mene Pangalos said in a media call that the treatment results would mainly underscore the potential future use as a non-vaccine prevention.FWN2R716N
"If and when this is approved it will be used in the treatment setting as well. But the real differentiator for this antibody is going to be in the prophylactic setting," he said.
Similar therapies made with a class of drugs called monoclonal antibodies are being developed by Regeneron (REGN.O), Eli Lilly (LLY.N) and GlaxoSmithKline (GSK.L) with partner Vir (VIR.O). These therapies are approved for emergency use in the United States for treating mild-to-moderate COVID-19.
Regeneron's therapy showed 72% protection against symptomatic infection in the first week, and 93% after that.
GSK-Vir's showed a 79% reduction in the risk of hospitalisation or death due to any cause, while Eli Lilly's therapy showed a 70% reduction in viral load at day seven compared to a placebo.
Merck & Co Inc (MRK.N), in turn, is emphasising the convenience of use of its anti-COVID-19 tablet, which cut the risk of having to got to hospital or of dying by 50% in a trial of early-stage patients who had at least one risk factor.
Merck, collaborating with Ridgeback Biotherapeutics, on Monday applied for U.S. emergency clearance for the oral drug.
AstraZeneca, whose COVID-19 vaccine has been widely used across the globe, asked U.S. regulators last week to grant emergency use authorisation for AZD7442 as a preventative shot.
As such, it is designed to protect people who do not have a strong enough immune response to vaccines, primarily those who have received organ transplants or who are in cancer care.
If full market clearance is obtained after any emergency approval the market could widen, for instance, to include crew and passengers of a cruise ship, said Pangalos.
"You can say the same for people who don't want to be vaccinated but want an antibody," he added.
AstraZeneca said it is submitting the new treatment data on AZD7442 to global health regulators.
The trial took place across 13 countries and involved more than 900 adult participants, 90% of whom suffered from conditions that made the particularly vulnerable to COVID-19, such as cancer and diabetes. One half receiving AZD7442 and the rest a placebo.
Full trial results will be submitted for publication in a peer-reviewed journal, AstraZeneca said.
AZD7442 contains laboratory-made antibodies designed to linger in the body for months to contain the virus in case of an infection. A vaccine, in contrast, relies on an intact immune system to develop targeted antibodies and infection-fighting cells.
While Monday's results cover the use of AZD7442 in non-hospitalised patients, a separate trial is also studying its use as a treatment for hospitalised COVID-19 patients.
Retrieved from: https://www.reuters.com/business/healthcare-pharmaceuticals/astrazenecas-covid-19-drug-cocktail-meets-main-goal-late-stage-trial-2021-10-11/
Thailand to end quarantine for some vaccinated visitors from Nov - PM
By Panu Wongcha-um and Panarat Thepgumpanat
Thai Prime Minister Prayuth Chan-ocha at Government House, in Bangkok, Thailand November 27, 2020. REUTERS/Chalinee Thirasupa/Pool
Thailand will end coronavirus quarantine requirements for vaccinated visitors from 10 low-risk countries starting Nov. 1, Prime Minister Prayuth Chan-ocha said on Monday, as the Southeast Asian nation tries to revive its pandemic-hit economy.
Thailand last year suffered its deepest economic contraction in more than two decades, with the key tourism sector still struggling.
Visitors from at least 10 countries including the United Kingdom, Singapore, Germany, China and the United States will be exempted from quarantine on arrival, Prayuth said in a televised speech.
More countries will later be added to the list, he said
"I know this decision comes with some risk. It is almost certain that we will see a temporary rise in serious cases as we relax these restrictions," Prayuth said.
"We will have to track the situation very carefully and see how to contain and live with that situation, because I do not think that the many millions who depend on the income generated by the travel, leisure and entertainment sector can possibly afford the devastating blow of a second lost new year holiday period," he said.
But if there is an unexpected emergence of a highly dangerous new variant of the virus in the months ahead, Thailand will act accordingly, Prayuth said.
Strict entry requirements and quarantine measures helped keep Thailand's coronavirus outbreaks under control until recent months, but the curbs saw arrival numbers plummet to a fraction of its nearly 40 million visitors in 2019.
Thailand lost about $50 billion in tourism revenue last year, an 82% plunge.
It started with a pilot reopening that began on July 1 on its most popular island, Phuket, which has been vaccinating most of its local population.
A total of just 100,000 foreign visitors are expected this year, according to the Tourism Authority of Thailand.
Thailand also plans to allow resumption of alcohol sales at restaurants and to reopen entertainment venues by Dec. 1, Prayuth said, adding that the country will have more than 170 doses of vaccine by the end of the year.
Thailand has so far vaccinated 32.5% of 72 million people in the country against COVID-19 and has eased many restrictions in Bangkok and other provinces, where infection numbers have declined lately.
Retrieved from: https://www.reuters.com/world/asia-pacific/thailand-end-quarantine-some-vaccinated-visitors-nov-pm-2021-10-11/
A W.H.O. panel recommends additional vaccine doses for immunocompromised people
A vaccination site in Spain, where the health regulator approved the use of third Covid-19 vaccination shots for immunocompromised people in September.Credit...Zowy Voeten/Getty Images
Severely or moderately immunocompromised people who have been vaccinated should be offered an additional dose of the seven coronavirus vaccines the World Health Organization has authorized, an advisory committee recommended on Monday.
People whose immune systems are diminished should get another shot if they initially received vaccines made by Pfizer-BioNTech, Moderna, AstraZeneca, the Serum Institute of India, Johnson & Johnson, Sinopharm and Sinovac, members of the Strategic Advisory Group of Experts on Immunization told reporters on a call on Monday.
Dr. Alejandro Cravioto, the committee's chair, said that people with compromised immune systems "need a third dose as an additional priming process so that they're fully protected."
The officials also recommended a third vaccine dose for people 60 and over who were inoculated with China's Sinopharm and Sinovacvaccines, ideally of the same brand as their first course of treatment.
W.H.O. officials have previously said that they supported additional vaccine doses for immunocompromised people who were not sufficiently protected from a standard vaccination regimen, and some countries, including the United States, already administer them.
The committee was careful to distinguish its own recommendation for additional doses for immunocompromised people from booster shot regimens like those authorized in the United States, Israel and some European countries.
Those booster programs, largely intended to boost immunity in healthy individuals over certain ages, have drawn criticism from the W.H.O., which has called for a moratorium on boosters until the end of the year so that more of the world's limited supply of vaccines can go to countries where few people have been vaccinated.
Dr. Katherine O'Brien, director of the W.H.O.'s department of immunization, vaccines and biologicals, called the panel's recommendation "a distinct thing from giving additional doses, booster doses, to people who have had an adequate primary response to vaccination."
Those boosters, she said, are "like putting two life jackets on somebody and leaving other people without any life jacket. So in this sense we're talking about getting the first life jacket on to people who have immunocompromising conditions."
She added that the W.H.O. had not yet determined that fully vaccinated, otherwise healthy people needed the added protection from boosters, but the committee planned to review booster issues during a session on Nov. 11.
The call with reporters on Monday was intended to summarize a series of meetings held last week, during which officials discussed global vaccine issues, like a newly approved vaccine for malaria.
Retrieved from: https://www.nytimes.com/2021/10/11/world/covid-immunocompromised-third-shot.html
Boosters are most likely on the way for recipients of the Moderna and J. &. J. vaccines
The federal government is expected to take a significant step this week toward offering booster doses to a much wider range of Americans as advisers to the Food and Drug Administration meet on Thursday and Friday to discuss recipients of the Johnson & Johnson and Moderna coronavirus vaccines.
So far, regulators have authorized booster shots only for certain adults who received the Pfizer-BioNTech vaccine — a source of some frustration to the government's medical advisers, who questioned at a meeting last month whether recipients of the other shots were being left out.
But the Biden administration is eager to shore up the protection provided by all three vaccines. And federal officials have become increasingly worried in particular about the more than 15 million Americans who received the Johnson & Johnson vaccine, which is less effective than the others.
On Thursday, the F.D.A.'s advisory panel of vaccine experts will discuss safety and efficacy data regarding booster shots for Moderna recipients. On Friday, the group will discuss Johnson & Johnson boosters. The agency typically issues decisions within a few days of advisory committee meetings.
The expert committee will also hear an eagerly awaited presentation on Friday from scientists at the National Institutes of Health on the effectiveness of mixing different brands of vaccines.
Dr. Peter Marks, the F.D.A.'s top vaccine regulator, suggested last week that federal officials favor extra shots for all three vaccines. "The data seem to demonstrate that booster shots seem necessary," he said.
The deliberations come as coronavirus cases across the United States are falling, with the seven-day average of daily new cases slipping below 100,000 for the first time since early August. Hospitalizations and deaths are also declining.
The meetings also come as the drug maker Merck said it had applied for federal authorization of what would be the first antiviral pill to treat Covid. The drug, molnupiravir, would be a less expensive treatment for high-risk people sick with Covid than the antibody treatments currently in use. But at least at first, many more Americans would be eligible than the supply could cover. So far, the federal government has placed an advance order for enough pills for 1.7 million Americans.
On Sunday, Dr. Anthony S. Fauci, the nation's top infectious disease doctor, said in a CNN interview that "we have to be careful that we don't prematurely declare victory," citing the potential for the virus to rebound among unvaccinated Americans.
Dr. Fauci said that vaccinating younger children could offer another crucial line of defense. As early as Halloween, the F.D.A. could authorize the Pfizer-BioNTech vaccine for children ages 5 to 11, a move that could help protect more than 28 million people in the United States.
Although the federal government has emphasized for months that all three vaccines are highly effective, a recent study by the Centers for Disease Control and Prevention found that Johnson & Johnson's single-dose vaccine was only 71 percent effective against hospitalization from Covid-19, compared with 88 percent for the two-dose Pfizer-BioNTech vaccine and 93 percent for Moderna's two-shot regimen.
Last month, Johnson & Johnson announced that a second dose, given two months after the first, bolstered the vaccine's effectiveness against symptomatic Covid-19 to 94 percent. The firm also said two shots were 100 percent effective against severe disease, although that estimate was less conclusive.
People eligible for Pfizer's booster include those 65 and older and those who live in long-term care facilities, have underlying medical conditions or are at higher risk of exposure to the virus because of their jobs or institutional settings, a group that includes health care workers, teachers and prisoners.
The F.D.A. and C.D.C. are expected to propose essentially the same criteria for booster shots of Moderna and Johnson & Johnson, although they could also discuss whether to broaden eligibility to include more middle-aged people.
Retrieved from: https://www.nytimes.com/live/2021/10/11/world/covid-delta-variant-vaccines/boosters-are-most-likely-on-the-way-for-recipients-of-the-moderna-and-j-j-vaccines
Hong Kong says it needs to increase vaccination rates before it opens its border
By Jin Yu Young
Travelers waited for shuttle buses to mandatory government-designated quarantine hotels in the arrival hall at Hong Kong International Airport in August.Credit...Jerome Favre/EPA, via Shutterstock
Hong Kong's chief executive said vaccination rates must rise before it considers loosening travel restrictions, putting the territory at odds with Asian countries that have started opening borders after almost two years of near isolation.
The government's main priority is to resume normal travel with mainland China and to limit deaths from the virus, the chief executive, Carrie Lam, said on Monday in an interview with Bloomberg Television. Hong Kong remains firm on its cross-border policies, she said. Ms. Lam declined to say what percent would need to be inoculated to open up borders.
Hong Kong has vaccinated 61 percent of its population with at least one dose, according to a New York Times database, falling short of the government's target of inoculating 70 percent by the end of September.
"I am duty bound to protect my people," Ms. Lam said. "Any fatality or increase in fatality will cause a major concern in society."
Governments across Asia are abandoning some of the strictest measures against the virus almost two years into a pandemic that has devastated their economies. Hong Kong has refused to ease these restrictions, including keeping in place a 21-day quarantinefor travelers. The steps have helped the island have one of the lowest tallies of deaths and new cases in the world.
"I'm sorry to say that we are still lagging behind," she said in the interview.
The policies have frustrated residents who have had to endure the quarantines on arrival. Over the weekend, a tropical storm caused a flight to Hong Kong from London's Heathrow Airport to divert to Manila. The trip should have taken 12 hours, but passengers were onboard the plane for 36 hours. They will still have to self-quarantine for the full three weeks.
Retrieved from: https://www.nytimes.com/live/2021/10/11/world/covid-delta-variant-vaccines/hong-kong-says-it-needs-to-increase-vaccination-rates-before-it-opens-its-border
Italian Covid bereaved want inquiry extended beyond early outbreak
By Angela Giuffrida in Rome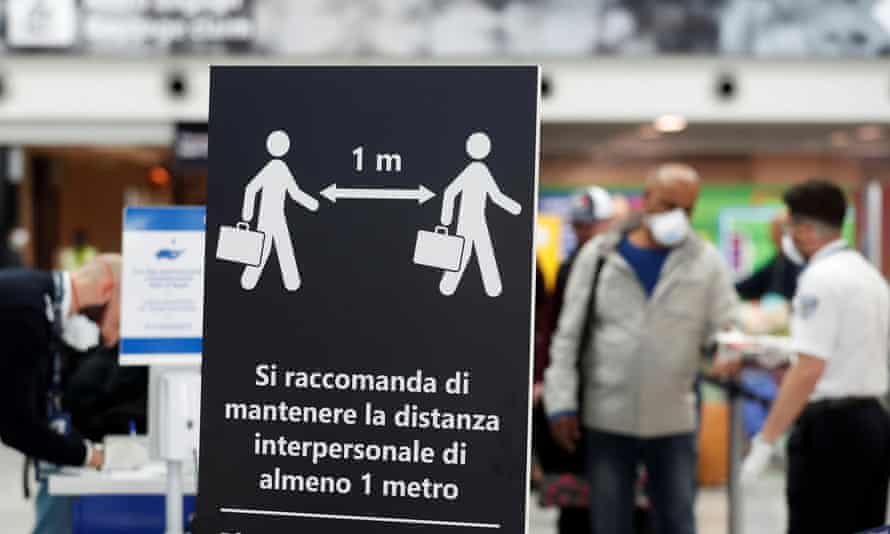 A social distancing sign in Rome on the third day of Italy's first nationwide lockdown in March 2020. Photograph: Yara Nardi/Reuters
Relatives of coronavirus victims in Italy are pushing for a full public inquiry into the government's handling of the pandemic as documents from the European Centre for Disease Prevention and Control (ECDC) show the first Covid-19 cases registered in 16 European countries originated from Italy.
Italy was the first western country to report an outbreak and has the second highest Covid-related death toll (131,335) in Europe after the UK (137,763).
The first local transmission of the infection was diagnosed in Codogno, a Lombardy town south of Milan, on 21 February 2020. But a parliamentary commission set up to investigate the government's handling of coronavirus will only focus on the period until 30 January 2020, the day before a national emergency was declared.
Advertisement
The inquiry will look into the initial outbreaks in countries such as China and the appropriateness of measures adopted by those states and the World Health Organization (WHO) to avoid contagion around the world.
It was originally intended to look more broadly at the government's response to the pandemic, especially in the early stage as it scrambled to contain rapidly rising infections and deaths. But the cut-off date was imposed after amendments from politicians from the centre-left Democratic party, the Five Star Movement (M5S) and the far-right League, which were supported by the commission in July.
Thousands of bereaved relatives have signed a petition in recent days to widen the inquiry before its terms are rubber-stamped next week.
"We need to abolish these scandalous amendments, which are a slap in the face to the families of victims who only want to know what happened," said Consuelo Locati, a lawyer representing more than 500 families who have brought legal proceedings against the government. She said a full inquiry would be beneficial in terms of learning from errors made and better preparing the country for future pandemics.
Locati pointed to documents from the ECDC, seen by the Guardian, that show 16 countries in Europe registered their first Covid-19 infections in people who had returned from Italy. The infections were recorded between 22 February 2020 and 7 March 2020, a few days before Italy went into full national lockdown.
Another document, dated 24 February 2020 and containing minutes from a European health security committee meeting, said "no exit screening [is] currently done in Italy".
Locati said: "People were leaving our borders without being checked, which contributed to the spread of the virus in the rest of Europe – this is a serious fact that would emerge if a full inquiry was held."
The only two parties to vote against the amendments to the inquiry were the centrist Italia Viva party, a small partner in the ruling coalition that includes the Democratic party, M5S and the League, and the opposition far-right Brothers of Italy.
According to minutes taken from a debate before the commission voted on the amendments on 8 July, Lisa Noja, a deputy with Italia Viva, said an in-depth study should be carried out "to understand what happened in the early stages of the pandemic, in order not to repeat the same mistakes".
Among the parliamentarians to disagree were those from Brescia and Bergamo, the Lombardy town worst hit at the beginning of the pandemic, and Piero Fassino, from the Democratic party. "To extend the scope of the investigation of the public inquiry into the management of the pandemic by the Italian authorities [would have fed] the instrumental controversy that has already emerged in recent months," Fassino said.
The commission is due to present its findings in 2023, when general elections are scheduled as well as a regional ballot in Lombardy, which is currently led by the League.
"It is clear that an inquiry of this kind would obviously compromise the results of the elections if the probe finds with certainty that there were responsibilities," Locati said. "They are trying to offload responsibility as more information emerges, but they can no longer play this game."
Paolo Casiraghi, who lives near Bergamo and lost three relatives to Covid-19 in March 2020, is among the people seeking compensation from the government in civil proceedings in Rome and has signed the petition pushing for a full inquiry.
"We need a more ample investigation as we need justice for innocent victims who suffered from the lack of preparedness of our country," he said. "They told us everything was under control; instead, documents prove that this wasn't the case."
Retrieved from: https://www.theguardian.com/world/2021/oct/11/italian-covid-bereaved-want-inquiry-extended-beyond-early-outbreak
Summary
· French study of over 22m people finds vaccines reduces the risk of dying or being hospitalised in people over the age of 50 with Covid-19 by 90%. The research published on Monday also found that vaccines appear to protect against the worst effects of the most prevalent virus strain, the Delta variant.
· The UK reported a further 40,224 Covid cases on Monday, according to official data. Meanwhile, a further 28 deaths were reported.
· Covid pandemic pushes poor countries to record debt levels, the World Bank says. David Malpass, the bank's president warned the virus had widened the gap between rich and poor nations, setting back progress by years and, in the case of some countries, by a decade. Figures show the debt burden of more than 70 low-income nations had increased by a record 12% to $860bn (£630bn) in 2020.
· The World Health Organization (WHO) has recommended immunocompromised people be given an additional dose of the Covid vaccine, due to their higher risk of breakthrough infections after standard immunisation.
· From today people in Wales must show an NHS Covid Pass or demonstrate their vaccination status to enter nightclubs and attend large events in the country.
· People in Germany will now need to pay for lateral flow coronavirus tests out of their own pockets, as the government is trying to nudge vaccine-hesitant citizens into getting the jab.
· Russia's president, Vladimir Putin, seen coughing during a televised government meeting, reassured officials on Monday that he was fine and said he was being tested for Covid virtually every day.
· Meanwhile, Russia's daily Covid numbers remain close to their highest figures with 957 coronavirus-related deaths and 29,409 new cases in the past 24 hours.
· Germany ends free lateral flow tests as part of vaccination drive. From Monday, people in Germany will need to pay for lateral flow coronavirus tests out of their own pockets, as the government is trying to nudge vaccine-hesitant citizens into getting the jab. The government says it can no longer justify paying for free tests out of the public purse since all residents over the age of 12 can now get the jab if they want to.
· Rome's violent protests against Covid-19 vaccine prompts calls to abolish Italian neofascist movements.
· Wales will enforce showing an NHS Covid Pass or vaccination status for those who wish to enter nightclubs and attend large events in the country. It means all over-18s need one to enter nightclubs, indoor non-seated events for more than 500 people, such as concerts or conventions, outdoor non-seated events for more than 4,000 people and any setting or event with more than 10,000 people in attendance. People will also be able to show they have had a negative lateral flow test result within the last 48 hours.
· Australia still lags behind many other countries on vaccine rollout – but it's catching up fast. After a slow start and sluggish vaccine rollout, 68.2% of Australians have had at least one dose of a Covid-19 vaccine as of 8 October. This is ahead of Germany at 67.9%, the United States at 64.39%, and the European Union at 67.8%.
· Slower vaccination rates in eastern Europe are leading to a dramatic surge in cases in comparison to higher vaccination rates and lower Covid infection and death rates in western Europe, figures from Our World In Data suggests. The exception is in the UK where case numbers are surging.
· Ryanair bans Covid refund passengers from boarding new flights. The budget airline has been accused of barring passengers who pursued chargebacks during the pandemic from taking new flights this year – unless they return their refunds. An investigation by MoneySavingExpert (MSE) found that holidaymakers who sought refunds from their credit card provider faced last-minute demands of up to £600 if they want to board a Ryanair plane.
· Relatives of coronavirus victims in Italy are pushing for a full public inquiry into the government's handling of the pandemic as documents from the European Centre for Disease Prevention and Control (ECDC) show the first Covid-19 cases registered in 16 European countries originated from Italy.
Retrieved from: https://www.theguardian.com/world/live/2021/oct/12/coronavirus-live-uk-covid-response-a-public-health-failure-inquiry-finds-thailand-set-to-welcome-back-tourists