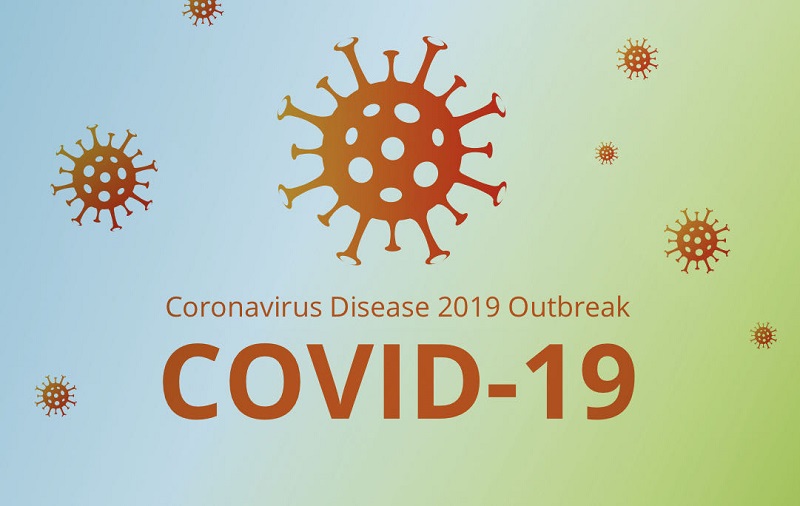 Country,
Other

Total
Cases

New
Cases

Total
Deaths

World

174,041,578

+327,669

3,743,838

34,210,782

+6,408

612,366

28,909,604

+101,232

349,229

16,947,062

+39,637

473,495

5,712,753

+5,070

109,998

5,287,980

+5,386

48,164

5,126,437

+9,163

123,787

4,516,892

+5,341

127,840

4,232,428

+2,275

126,523

3,955,439

+16,415

81,214

3,708,779

+1,845

89,851

3,697,987

+4975

80,196

3,571,067

+24,050

91,961

2,966,363

+5,612

81,063

2,875,136

+312

74,152

2,432,280

+2,649

228,754

2,214,517

+937

51,182

1,983,570

+3,179

186,511

1,856,038

+5,832

51,612

1,696,564

+5,073

56,974

1,663,517

+152

30,161

1,663,050

+1,530

17,678

1,427,956

+7,690

29,937

1,392,563

+1,389

25,724

1,269,478

+7,228

21,898

1,224,992

+3,314

16,538

1,078,863

+121

30,815

1,069,874

+1,468

25,019

932,140

+1,629

21,265

852,646

+612

17,034

839,571

+5

6,418

810,990

+1,676

12,839

806,008

+137

29,854

760,323

+2,652

13,523

739,847

+528

9,530

713,678

+116

6,917

646,800

+362

10,639

616,815

+6,241

3,378

588,124

+3,024

7,898

583,071

+1,874

1,699

541,557

+134

7,763

521,426

+231

9,178

457,546

+984

7,456

432,353

+924

20,809

419,473

+47

17,820

409,368

+579

12,277

399,852

+943

2,910

394,075

+1,191

4,057

390,436

+96

12,404

385,734

+2,277

14,981

382,475

+526

6,402

373,165

+2,144

9,874

357,565

+157

8,086

355,732

+1,950

12,980

349,098

+504

4,910

334,715

+68

4,941

317,197

+1,297

1,795

316,535

+3,832

4,640

310,026

+173

3,517

286,489

+853

2,518

276,459

+174

4,307

272,914

+109

4,209

267,972

+801

15,352

264,449

+313

4,941

261,958

+566

8,294

255,453

+21

6,134

255,375

+157

4,388

251,078

+1,496

1,119

242,138

+1,424

2,719

241,574

+535

6,460

223,879

+1,080

2,413

223,180

+37

4,458

218,627

+172

569

205,333

+2,976

1,742

187,281

+328

3,143

177,467

+2,671

1,236

172,491

+166

3,287

166,767

+11

2,117

148,918

+1,087

1,012

144,317

+64

3,225

144,152

+556

1,973

134,812

+135

2,413

132,379

+5

2,451

130,958

+277

3,518

130,119

+51

1,263

126,817

+128

785

106,973

+337

1,847

101,722

+286

696

100,278

+738

1,308

99,812

+21

1,592

94,228

+40

787

93,226

+68

959

91,248

+30

4,636

80,744

+1,520

3,195

16,541

+249

350

11,057

+16

107

8,747

+206

53
Retrieved from: https://www.worldometers.info/coronavirus/
The rush to vaccinate the world stalls as funds and doses fall short
By Jesus Jiménez and Andrés R. Martínez
Relatives of a man who died of Covid-19 at his burial in Lima, Peru, on Tuesday.Credit...Angela Ponce/Getty Images
Many of the world's poorest nations are living through their deadliest outbreaks of the pandemic, with few signs that a significant number of vaccine doses will be available to reverse that tide anytime soon.
Billion-dollar pledges to help them buy doses — and last week's announcement that the United States will distribute an initial supply of 25 million doses around the world this month — will do little to curb the explosive outbreaks in countries including Argentina, Malaysia and Botswana, experts said. India, the world's largest producer of vaccines, won't export any for the rest of the year as it confronts a crushing virus wave. And Covax, the global vaccine-sharing program that the poorest nations rely on, is struggling to raise money and find doses to buy.
The World Health Organization estimates that 11 billion doses need to be administered worldwide to stamp out the pandemic.
Scientists warn that as long as the virus runs rampant in much of the world, virus variants have time to mutate and possibly evolve the ability to evade vaccines.
The vaccine shortfall is widest in Africa, where about 3 percent of 1.2 billion people across more than 50 countries have received one shot, and the World Health Organization reported last week that eight countries had seen cases surge 30 percent or more in the previous seven days. Compare that with the United States, where more than 60 percent of people have received one dose, and new cases have dropped 80 percent since mid-April.
The efforts to help poorer countries are "a baby step," said Dr. Peter Hotez, a vaccine expert at Baylor College of Medicine in Houston. "The donations to date are so modest you really won't have much of an impact," he said. "I don't think any of the efforts from the U.S. even come close to recognizing the scope and magnitude of the problem."
But experts say it's not just a problem of political will. There is a huge bottleneck in the global vaccine supply, with the Serum Institute of India saying that it won't resume exports until next year as it saves doses to inoculate Indians. And mishaps at factories in the United States have forced producers to sit on 100 million doses as regulators review whether they were tainted.
Last year, rich nations including the United States, Britain and Germany rushed to lock up supplies of vaccines even before it was clear that they were effective against the coronavirus. That early stockpiling has meant that of the roughly two billion vaccine doses that have been administered globally, about 85 percent have gone to the wealthiest nations. The world's poorest, according to data tracked by the The New York Times, have administered just 0.3 percent of those doses.
Covax, which set a goal of delivering two billion doses by the end of the year for the world's poorest countries, has distributed about 100 million doses so far.
At a virtual summit last week hosted by the Japanese government and Gavi, the Vaccine Alliance, wealthy countries — along with foundations and private companies — pledged $2.4 billion to Covax. Additionally, five countries — Belgium, Denmark, Japan, Spain and Sweden — said they would share a total of 54 million doses.
Dr. Hotez said that scaling production is "our only hope" to truly make a difference in global vaccine distribution, and that the United States needs to lead the effort, not just in ramping up production but also delivery.
In addition to scaling production, wealthy countries must share more of the doses they don't need, said Henrietta Fore, executive director of the U.N. Children's Fund.
As leaders of the Group of 7 industrialized nations prepare to meet in Britain next weekend, UNICEF urged them to consider donating 20 percent of their available supplies from June through August as "an important emergency stopgap measure," Ms. Fore said.
But even if wealthy countries agree to share more vaccines, hundreds of millions of dollars will be needed to ship doses, train health care workers, and provide personal protective equipment and technical assistance, Ms. Fore said.
"We need dedicated funding to get vaccines off the tarmac and into the arms of those who need them," she said.
In a statement, Gavi said that last week's donations and pledges of doses had put the global vaccination effort "on a path towards ending the acute phase of the pandemic."
The organization acknowledged, however, that deliveries of those vaccines would not begin to ramp up until after September.
Globally, surges later this year might be even worse. Dr. Hotez said he was especially concerned about the Democratic Republic of Congo, where cases are rising and vaccine distribution is lagging. Over the past two weeks, Congo has reported an average of almost 200 new cases per day, although experts say the true number is likely much higher because of lack of testing.
What's happening there may be "the beginning of something terrible, and that's what really concerns me," Dr. Hotez said. "The urgency is greater than ever."
Retrieved from: https://www.nytimes.com/2021/06/06/world/vaccine-coronavirus-global-stalls.html
India's capital will ease some restrictions on Monday, even as it prepares for a possible third wave
A roadside barber giving a shave to a migrant worker outside closed shops during a lockdown in New Delhi on Thursday.Credit...Anindito Mukherjee/Getty Images
India's capital, New Delhi, will ease some coronavirus restrictions on Monday, allowing markets to reopen with limited hours and the metro transit system to operate at 50 percent capacity, the region's top official said on Saturday, even as he announced preparations for a potential third wave of infections.
After enduring one of the world's most ferocious outbreaks in April and May, the broader territory of Delhi has recorded a drop in daily new cases of 85 percent over the past two weeks, and reports of new deaths have plummeted. On Sunday, India as a whole reported more than 114,000 new cases, the lowest number in two months. But across the country, gaps in testing and medical treatment leave many cases and deaths unrecorded.
"The corona situation is under control for now," Delhi's chief minister, Arvind Kejriwal, told a news conference.
Mr. Kejriwal warned that any new wave could be even more severe than the spring surge, when patients suffered from acute shortages of hospital beds and medical oxygen.
He said the region would build new oxygen-production and storage facilities, and expand the capacity of intensive-care units. He also said that two genome-tracking facilities would be set up to examine samples of the virus and identify variants, and that a pediatric task force was advising the government on how to protect children in the event of a third wave.
At the start of this week, Delhi allowed some manufacturing and construction activity to resume for the first time since a lockdown was imposed six weeks earlier. Yet even a gradual reopening carries risks, given that less than 4 percent of India's 1.3 billion people are fully vaccinated.
Other parts of India are also easing restrictions. In northern Uttar Pradesh, the country's most populous state, Reuters reported that only night curfew restrictions remain for 55 of 75 districts.
In the industrialized western state of Maharashtra, malls, movie theaters, restaurants and offices will be allowed to open regularly as of Monday in districts where the positivity rate has fallen below 5 percent, Reuters also reported, and in Gujarat, government and private offices will be allowed to operate fully staffed, while shops in 36 cities will be able to remain open longer.
Retrieved from: https://www.nytimes.com/live/2021/06/05/world/covid-vaccine-coronavirus-mask/india-covid-lockdown-restrictions
As cases decline, the U.S. and Europe take different approaches to reopening
By Benjamin Mueller and Marc Santora
Restaurant and cafe terraces in France have reopened at 50 percent capacity, but the interiors of the establishments remain closed.Credit...Andrea Mantovani for The New York Times
LONDON — While the United States appears to be trying to close the curtain on the pandemic — with restaurants filled, mask mandates discarded and more than 135,000 people jamming the oval at the Indianapolis 500 — it is a different story across the Atlantic.
Some European countries are maintaining limits on gatherings, reimposing curbs on travel and weighing local lockdowns. And parts of Britain have extended lockdown restrictions, while scientists are heatedly debating whether to proceed with a nationwide reopening planned for June 21.
Although vaccinations have helped drive down coronavirus cases on both sides of the pond, on the fundamental question of how to approach an end to pandemic restrictions, America and Europe have diverged.
"The British are worrying more than any other country," said Tim Spector, a professor of genetic epidemiology at King's College London. "We seem to be much more receptive to the doomsday scenarios than they are in the U.S."
In Britain, the spread of a new, highly contagious variant first detected in India has scrambled calculations. Though scientists are at odds about the severity of the threat from the variant, known as Delta, some argue that the costs of delaying the reopening by a few weeks pale in comparison with the damage that might be wrought by giving the variant extra opportunities to spread while people are still acquiring immunity.
"We're now looking at a variant where we have less knowledge about its properties," said Theo Sanderson, a researcher at the Wellcome Sanger Institute. "It just means we have less certainty about what things will look like going forward."
Retrieved from: https://www.nytimes.com/live/2021/06/05/world/covid-vaccine-coronavirus-mask/as-cases-decline-the-us-and-europe-take-different-approaches-to-reopening
More than 75% of Australians support compulsory Covid vaccines for aged care staff
By Sarah Martin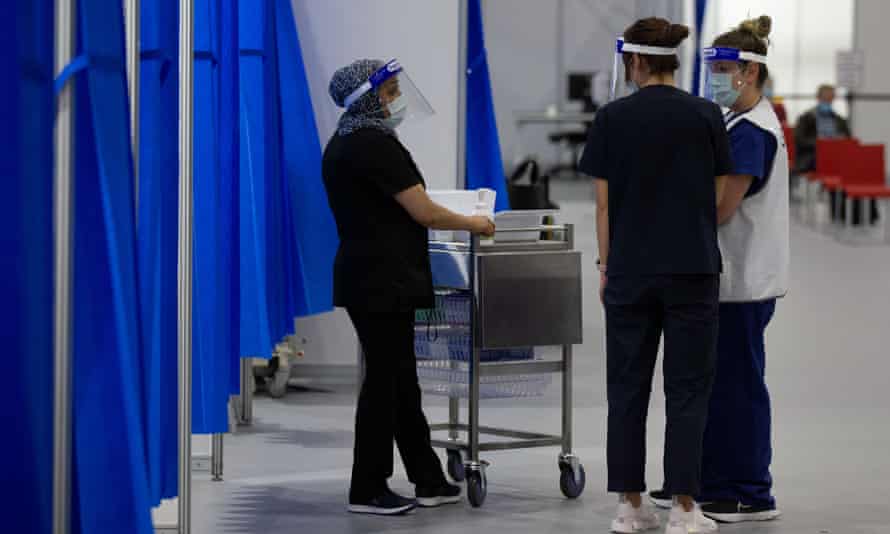 Vaccination staff inside the Melbourne Convention and Exhibition Centre. An Australia Institute poll has found most Australians are on board with mandatory Covid vaccines for frontline workers who work with vulnerable groups. Photograph: Darrian Traynor/Getty Images
More than three-quarters of Australians support a mandatory Covid-19 vaccine for frontline workers in aged care and other vulnerable settings, a new survey from the Australia Institute shows.
The poll of 1,001 people, taken late last week as national cabinet flagged it was warming to the idea, finds strong support for mandating vaccines for workers in contact with vulnerable demographics such as aged care workers.
Half of all people surveyed strongly agreed with the proposal and another 27% agreed, with support highest among voters for both major parties. Eighty-four per cent of Coalition voters and 83% of Labor voters back the move.
Across all voting groups more people agreed with the idea than disagreed, but the highest resistance to the idea of compulsory vaccines comes from One Nation voters, with 38% disagreeing with the proposed mandate compared with 43% of the One Nation voters that agreed.
Advertisement
The majority of Greens voters (72%) and independent voters (56%) also agreed with making the vaccine mandatory for workers in contact with vulnerable demographics.
Across all voting groups only 13% of people surveyed disagreed with the measure, with another 11% unsure.
The age breakdown of the poll, which has a 3% margin of error, also reveals that older Australians are most likely to support mandating the vaccine, with 89% of people aged over 60 wanting the jab to be compulsory, with 71% of this group strongly agreeing.
On Friday, the prime minister Scott Morrison said national cabinet had agreed to an "in-principle disposition" to "move towards mandatory vaccination for aged care workers", with the sector once again described as a priority.
"Make no mistake, we are leaning heavily into this as a government and myself as prime minister to see a move towards mandatory vaccination for aged care workers," Morrison said.
The sector was included in the 1a priority group in the government's initial rollout strategy which was meant to be see people vaccinated within the first six weeks of the program.
But the government received advice that residents and staff should be done separately to avoid the prospect of having both groups sick from side-effects at the same time, and aged care residents were prioritised over staff.
Fewer than 10% of staff have been vaccinated through aged care homes and the government is unaware of how many workers received vaccines elsewhere. Now the government is considering making the vaccine mandatory.
Chief medical officers on the Australian Health Protection Principal Committee have been asked to provide further advice to national cabinet, which will then consider any possible drawbacks of a mandatory program.
The Australia Institute's Ben Oquist said while any public health response should be informed "by medical advice, not popularity", the research showed the public was on board wth the concept.
"Aged care workers confront some of the lowest paid and insecure work in the country – often forced to work excessive hours," Oquist said.
"With no current paid leave entitlement for such workers to get vaccinated, there will need to be much stronger government intervention to get the rollout to work."
Unions have also been pushing the federal government to provide paid leave for the sector's workforce to access the jab, saying the inaction has contributed to low vaccination rates.
On Sunday, the federal health minister Greg Hunt said the country was at a "moment of momentum" in the vaccine rollout, with 5,016,000 vaccines now delivered across the country.
He also announced an extra 330,000 doses would be sent to Victoria this month as the state tries to avoid a third wave of the virus stemming from an outbreak of the Kappa and Delta variants.
Labor has continued to heap pressure over the troubled vaccine rollout and the building of new federal quarantine facilities, saying the latest Victorian outbreak and lockdown could have been avoided.
Albanese accused the federal government of wanting to "pass the buck" and avoid responsibility for the quarantine failures that have triggered lockdowns.
"We can't afford to continue to have these lockdowns and we've continued to say that the government, the federal government is responsible for quarantine," Albanese said.
In response to the sustained criticism of the program, the government has announced a major revamp of Australia's Covid-19 vaccination program, opening access for those aged 40 to 49 and calling in the army to oversee the rollout.
Retrieved from: https://www.theguardian.com/australia-news/2021/jun/07/more-than-75-of-australians-support-compulsory-covid-vaccines-for-aged-care-staff
Covid: more than 200 leaders urge G7 to help vaccinate world's poorest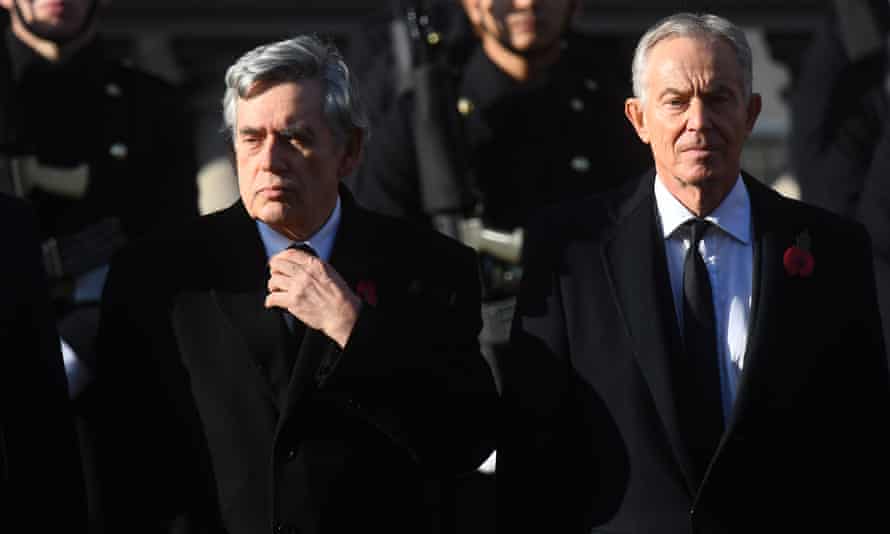 Among the vaccine letter's signatories are Gordon Brown and Tony Blair. Brown said the proposal would cost 30p per person per week in the UK. Photograph: Victoria Jones/PA
More than 100 former prime ministers, presidents and foreign ministers are among 230 prominent figures calling on the leaders of the powerful G7 countries to pay two-thirds of the $66bn (£46.6bn) needed to vaccinate low-income countries against Covid.
A letter seen by the Guardian ahead of the G7 summit to be hosted by Boris Johnson in Cornwall warns that the leaders of the UK, US, France, Germany, Italy, Japan and Canada must make 2021 "a turning point in global cooperation". Fewer than 2% of people in sub-Saharan Africa have been vaccinated against Covid, while the UK has now immunised 70% of its population with at least one dose.
The plea comes as Johnson faces a rebellion from dozens of his MPs over cuts to the foreign aid budget, which have hit poorer countries and coronavirus research projects.
Advertisement
On Sunday Johnson said he would ask his counterparts at the G7 summit to "rise to the greatest challenge of the postwar era" by "vaccinating the world by the end of next year" but gave no specifics on funding or dose-sharing.
Among the vaccine letter's signatories are Gordon Brown and Tony Blair, with the two former prime ministers putting aside past differences to join the effort to put pressure on the G7. Brown said the proposal would cost 30p per person per week in the UK "for the best insurance policy in the world".
Prominent figures who have signed the letter include former UN secretary general Ban-Ki Moon, former Irish president Mary Robinson and taoiseach Bertie Ahern and 15 former African leaders including presidents Olusegun Obasanjo of Nigeria, John Mahama of Ghana and FW de Klerk of South Africa.
Other signatories include the UK's former overseas development minister Lynda Chalker, Virgin's founder Sir Richard Branson, the head of the Wellcome Trust, Sir Jeremy Farrar, Nobel Laureate for economics Bengt Holmström and the economist Lord O'Neill.
They argue that the investment is affordable and vital to stopping the spread of new coronavirus variants that could undermine current vaccines. "The year 2020 witnessed a failure of global cooperation, but 2021 can usher in a new era. No one anywhere is safe from Covid-19 until everyone is safe everywhere," they say.
"Support from the G7 and G20 that makes vaccines readily accessible to low and middle-income countries is not an act of charity, but rather is in every country's strategic interest, and as described by the IMF [International Monetary Fund] is 'the best public investment in history'."
The signatories of the letter say that polling suggests the public back them. A survey commissioned by Save the Children found that 79% of people in the UK who have a view think the G7 should pay to make the world safe. Across five countries – the US, France, Germany and Canada as well as the UK – leaving out the "don't knows", more than 70% thought their country should pay its share.
People of different ages, in different countries and with different backgrounds are united over the need for fair access to vaccines, said Kirsty McNeill, executive director of Save the Children, which is a member of a coalition of 75 organisations representing 12 million people called Crack the Crises. They want global action on Covid, climate change and support for struggling communities.
"They want the G7 to make the world safe again. Their publics will not accept anything less than a serious and fully funded plan to crack the global Covid crisis," she said.
The #WhyNotShare campaign video by director Richard Curtis
An estimated $66bn over two years is needed for the global vaccine effort. The former leaders say the G7 should pay two-thirds of the cost, according to the size of their economies.
"For the G7 to pay is not charity, it is self-protection to stop the disease spreading, mutating and returning to threaten all of us," said Brown. "Costing just 30p per person per week in the UK, is a small price to pay for the best insurance policy in the world. Savings from vaccination are set to reach around $9tn by 2025."
The first step, they say, is for the G7 nations to pledge 67% of the funding needed for the UN's vaccines, tests and treatments programme, called the Access to Covid-19 Tools Accelerator (ACT-A). An allocation of special drawing rights totalling $650bn to low income countries by the IMF could enable them to pay for their share, said Brown.
"I've been looking at this question of how we pay for all this burden-sharing formula. People will say we don't have enough money," he told the Guardian. "Every country is about to get this grant, this money from the International Monetary Fund. They're just about to get $21bn from the IMF. That would enable them to pay this and to pay their share of anything else."
The G7 should also lead the way on dose-sharing, voluntary licensing agreements and temporary patent waivers to enable vaccine manufacturing to begin on every continent, the letter says. That would require pharmaceutical companies to share the technological knowhow and skills to make vaccines as well as the formula.
"Global economic policy alignment is vital. We were fortunate that, over the last year, in the initial Covid-19 recovery phase, most countries followed similar policies, resulting in an acceptable level of policy alignment. What we need now, in this next phase, is an agreed global growth plan with coordinated monetary and fiscal interventions to prevent an uneven and unbalanced recovery – and ensure a more inclusive, equitable and greener future," it adds.
Retrieved from: https://www.theguardian.com/world/2021/jun/06/covid-global-leaders-urge-g7-to-help-vaccinate-worlds-poorest
Summary
Here are the other key developments from the last few hours:
· The UK recorded 5,341 cases on Sunday, an increase of 2,101 on last Sunday when 3,111 cases were reported.
· Portugal's prime minister has criticised Britain for removing the country from the green list, allowing travellers to visit Portugal without quarantine on return.
· Ministers are 'absolutely open' to delaying the 21 June reopening date in England if the Delta variant worsens, the health secretary said.
· Sunday is the first day for 12-16-year-olds in Israel to get vaccinated, after 55% of the population have so far received two doses in the country.
· Morocco will reopen its airports to international traffic starting from 15 June to help the return of its nationals living abroad
· Staff of a senate committee investigating the handling of the pandemic in Brazil have said that the Copa America football tournament should not be held amid the world's second-deadliest outbreak and must be postponed.
· Uganda's president, Yoweri Museveni, re-imposed a strict lockdown that included the closure of schools and the suspension of inter-district travel.
· Victorians are being warned there is no 'magic number' of the people getting vaccinated before future lockdowns can be avoided.
Retrieved from: https://www.theguardian.com/world/live/2021/jun/06/coronavirus-live-news-tony-blair-greater-freedoms-fully-vaccinated-uk-matt-hancock-covid-latest-updates